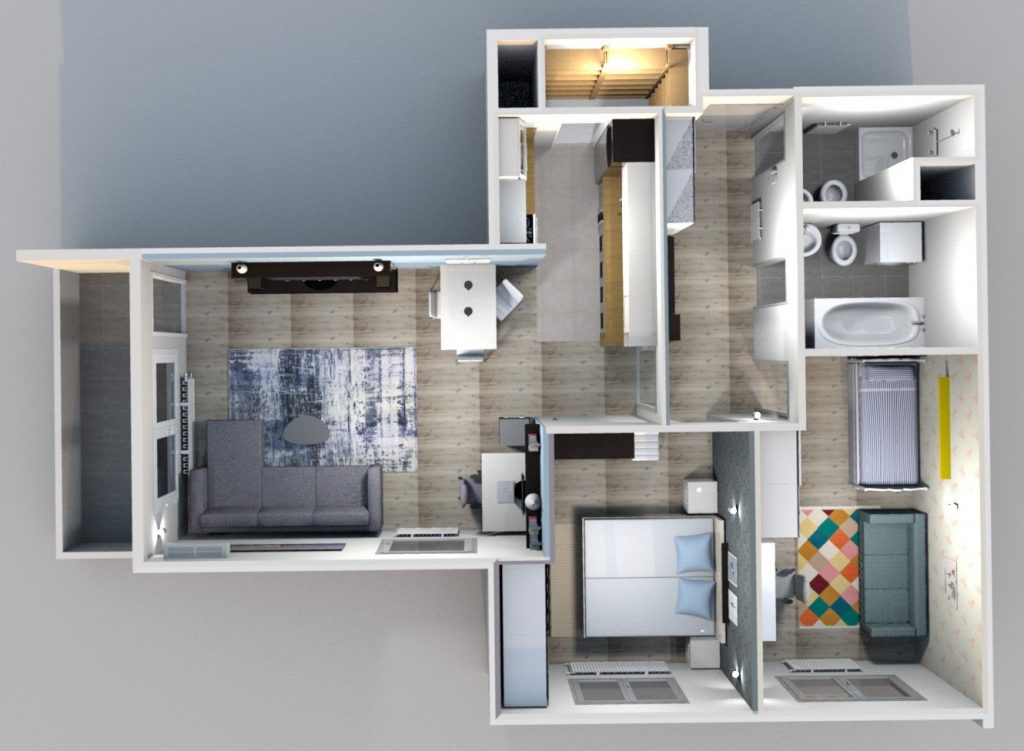 If you need a do-it-yourself interior design for your flat, house, basement, or dictator mansion—with completely free software—you are at the right place. Below is my experience with choosing software, finding 3D furniture models, finding textures, rendering, and furnishing the flat according to the interior design project. I used Sweet Home 3D, SketchUp, and SketchUp 3D Warehouse to produce results you can see in the gallery below: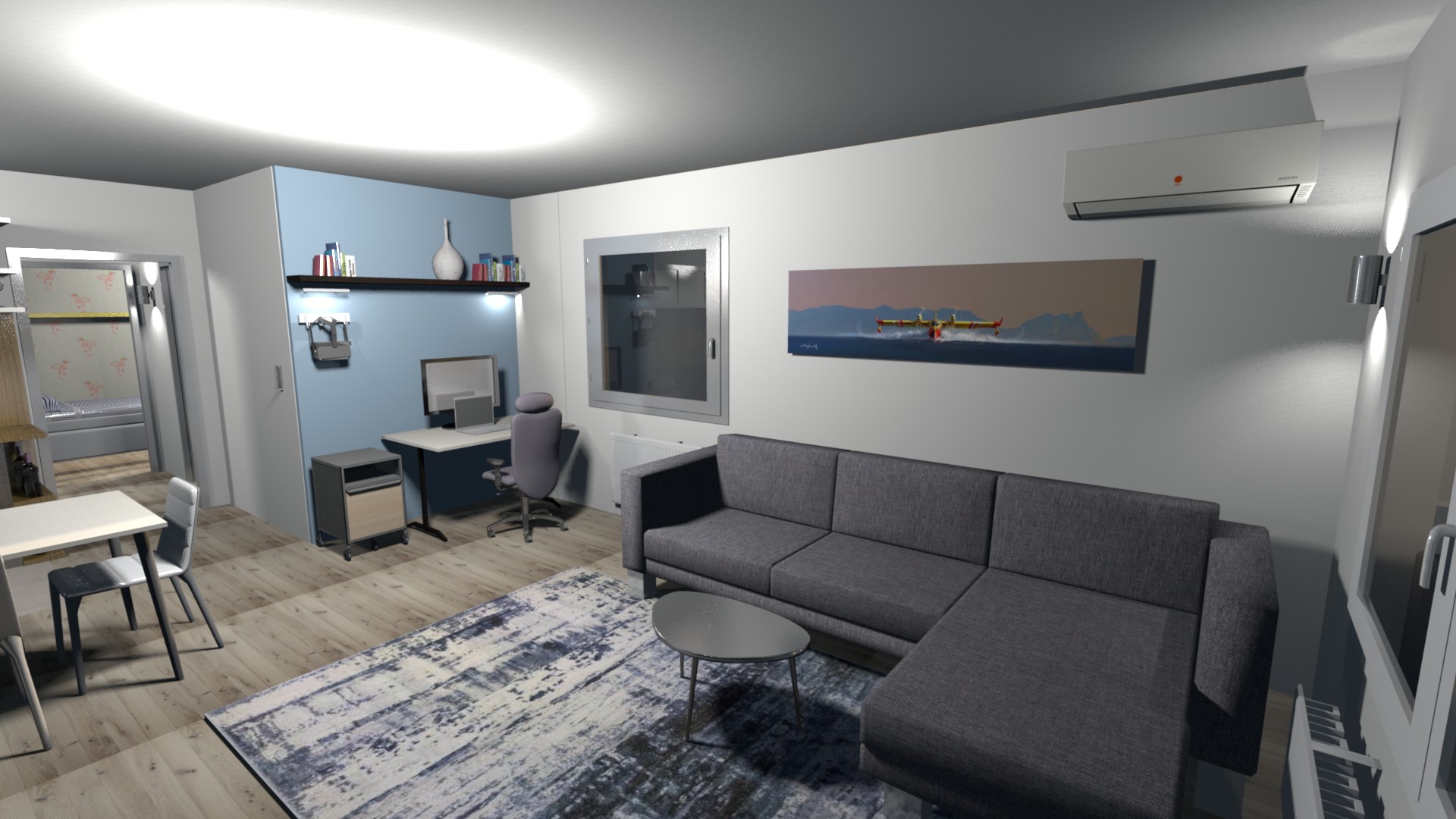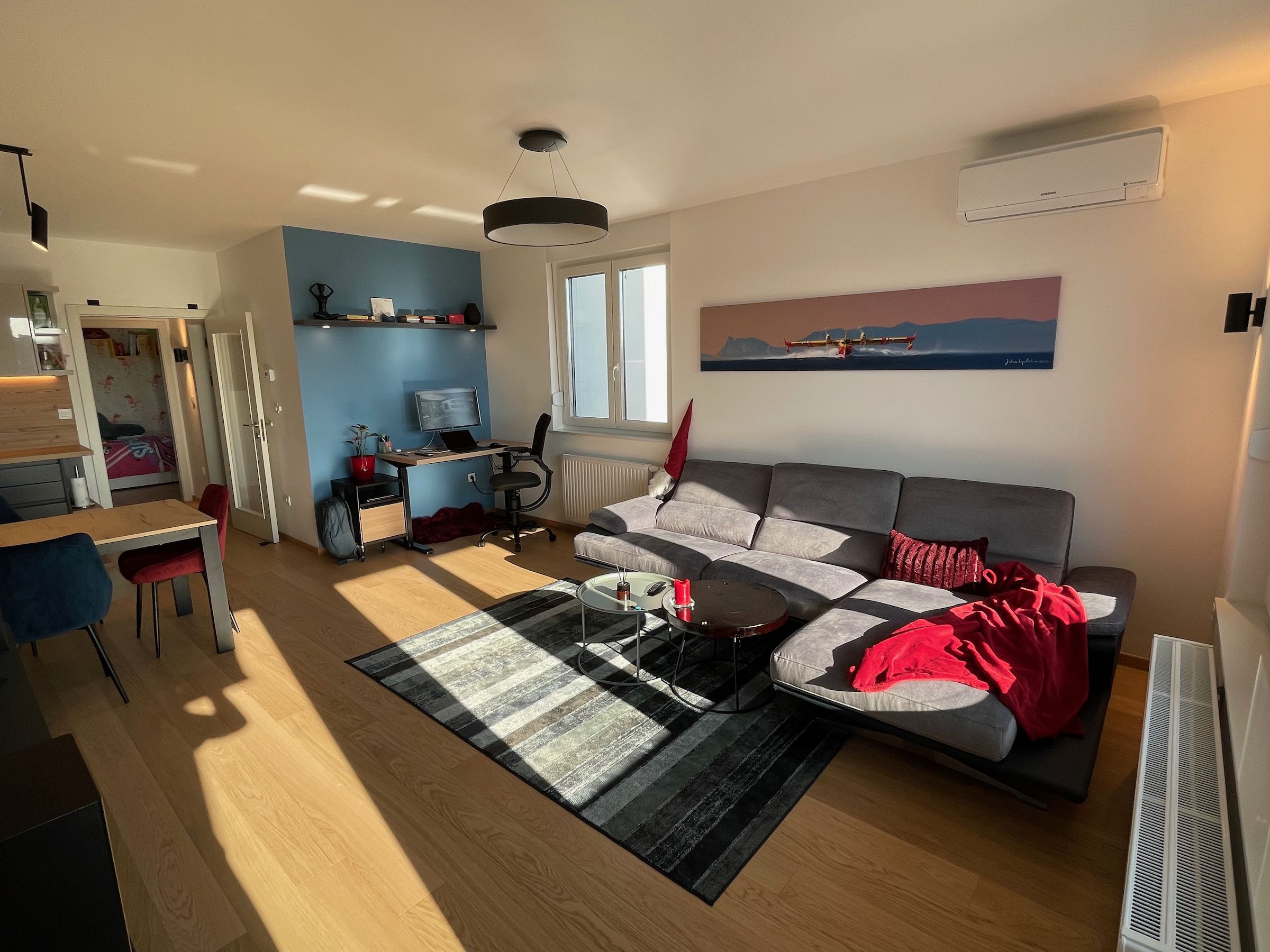 Living room (from balcony)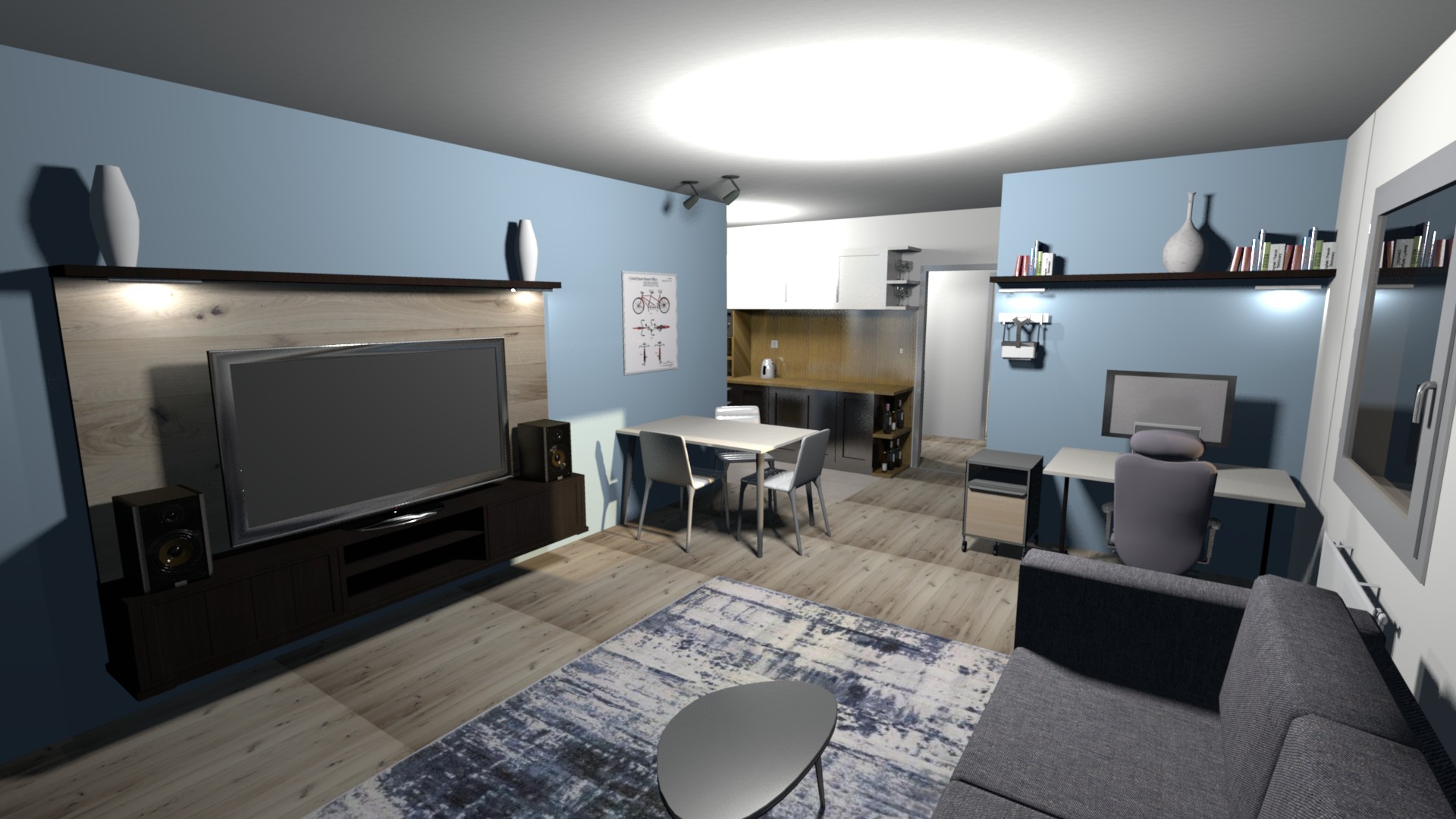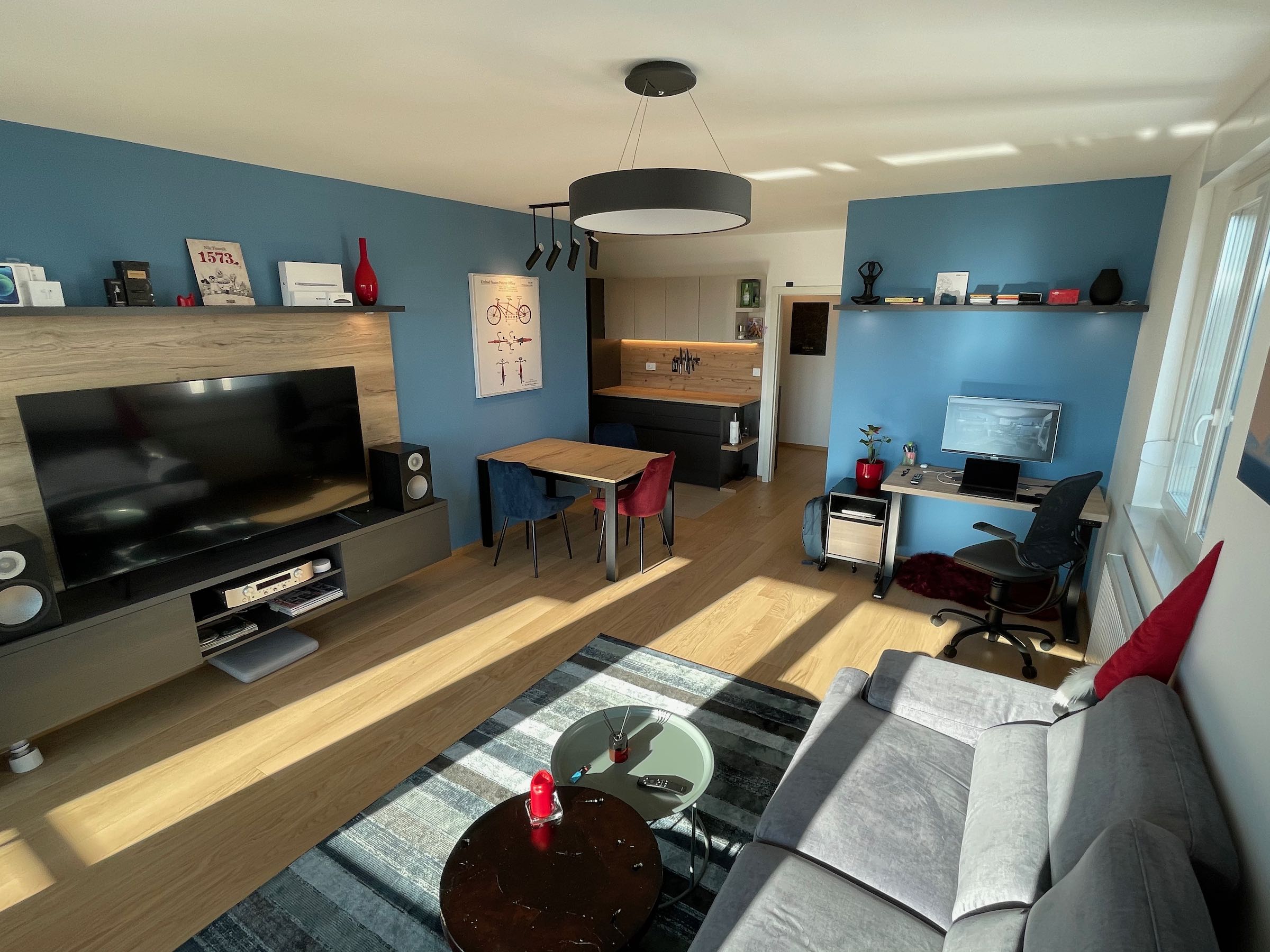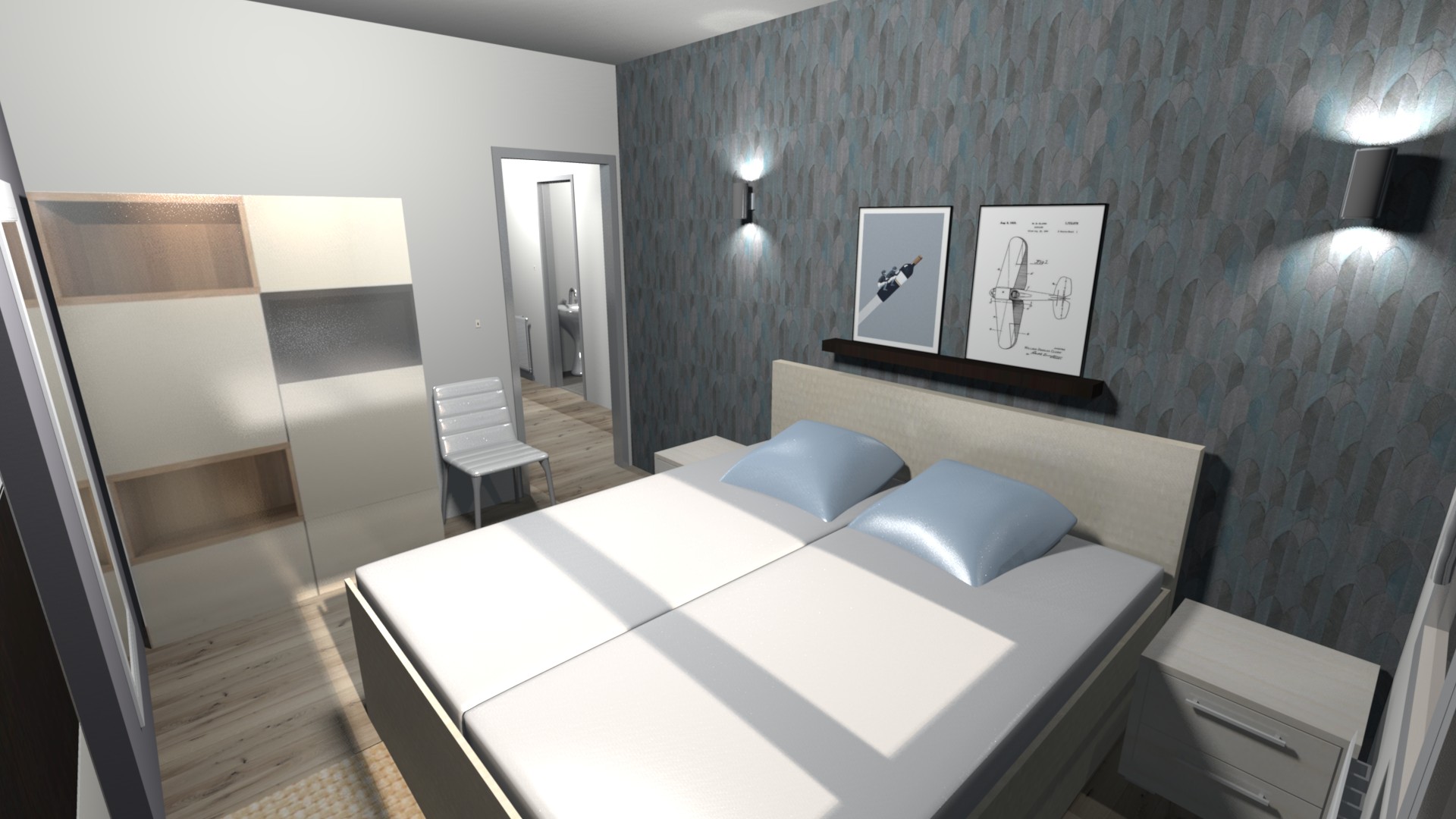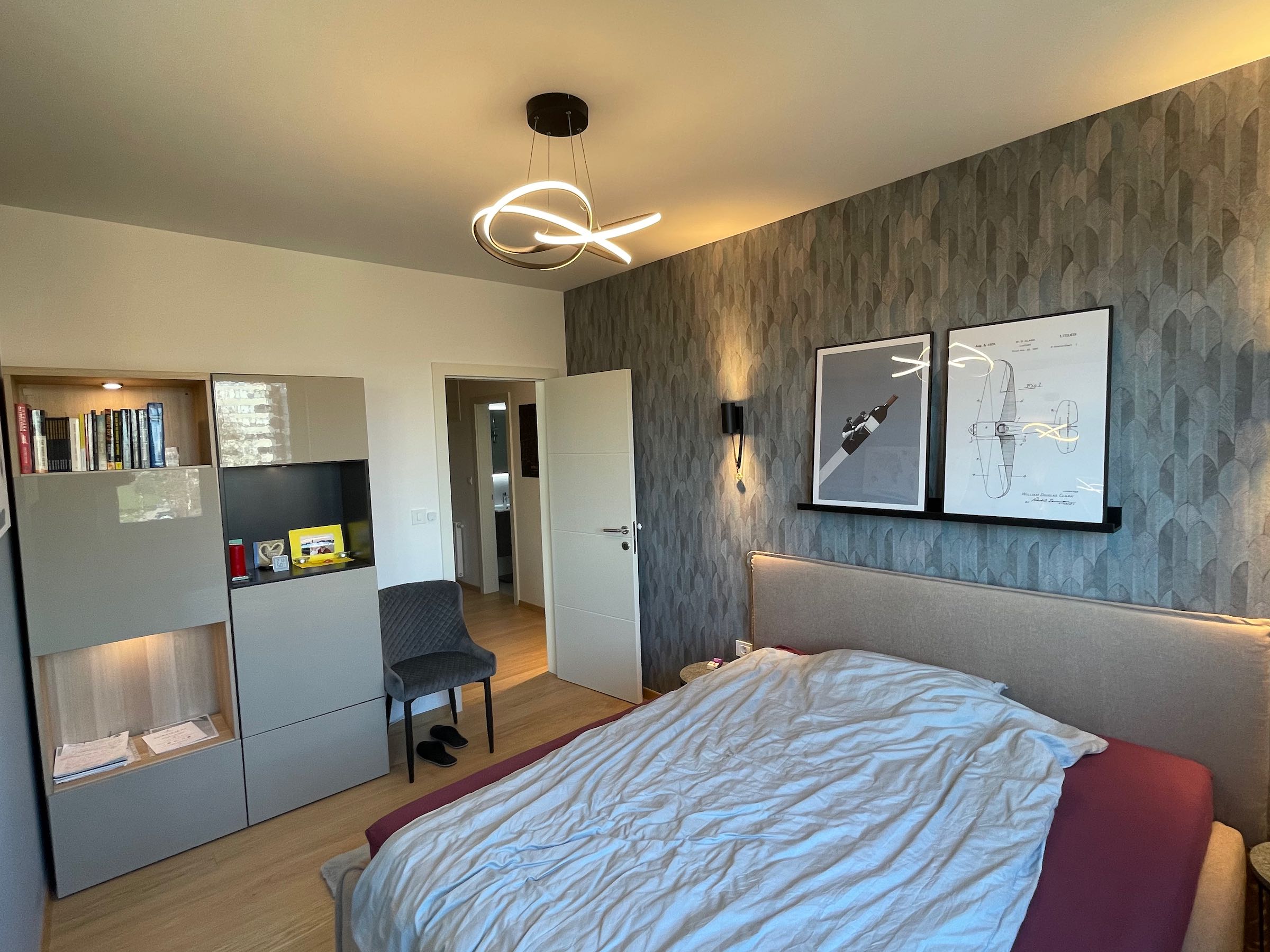 My friends were impressed with the fidelity of the initial interior design and the final result ("Hey, even the artwork is the same!). Let's be clear, this is not professional interior design, but that was not the goal. Professionals buy interior design software for hundreds of dollars, design is their full-time job, and they charge you appropriately.
Do-it-yourself interior design is less ambitious, less costly, and has two simple goals:
Save time and reduce stress when buying furniture and picking colors because you will know exactly what furniture and colors you need.


Make a better interior design than you would by just picking furniture and colors on the go.
Even if you spend just 10 hours on planning your interior, that will save more time when shopping ("Is this the right size or color?"), and you will end up with a better interior you will live in. With that said, let's dive in.
Picking software: why not commercial?
I first thought of buying professional interior design software but quickly got discouraged. Even SketchUp Go is $119 and SketchUp Studio is $699 per year. That is a bargain compared to AutoCAD, which is $235 per month. Even more problematic than price, professional software is overwhelming for new users. I didn't want to spend weeks learning 3D modeling or lighting setup; I wanted to drag & drop 3D furniture on the floor plan and immediately see how it looks and fits the space.
A less complex option is using web-based interior design tools for amateurs: FloorPlanner, Planner 5D, HomeByMe, RoomStyler, etc. They all have a simple interface, free trial, and inexpensive pricing. But I found these web-based tools quite limited:
A small number of 3D models.
No importing of free 3D models found on the internet.
No exporting of your finished plans.
Anything advanced is charged extra: hi-res renders, additional furniture, etc.
Your data is locked in their cloud forever.
If you stop paying a subscription, you will lose access to your projects.
Commercial software feels like Hotel California lyrics—"you can never leave"—either because you invested too much into learning it or your project files are all locked in the cloud.
Free software to the rescue
Fortunately, you can do interior design with entirely free software, which is interoperable with each other. You will need three parts:
Interior design software.
Furniture libraries.
3D modeling software for custom furniture.
Free interior design software: Sweet Home 3D (SH3D)
Sweet Home 3D (website, Wikipedia) is a free architectural design software. You can download the desktop version or use the online web version.
SH3D advantages are:
Simple to use.
Workflow optimized for interior design.
Downloadable packages for extra 3D models and extra textures.
Importing 3D models and textures.
Rendering of images and walkthrough videos.
Exporting project in OBJ format (e.g., for use in Blender).
Completely free.
For learning SH3D, I highly recommend YouTube SH3D lessons from TJ FREE. Included 14 lessons are short so you can watch them all in two hours.
Below is a short overview of the design process.
1. Create rooms and walls
To speed up the process, SH3D has the option to import a floor plan as a background image: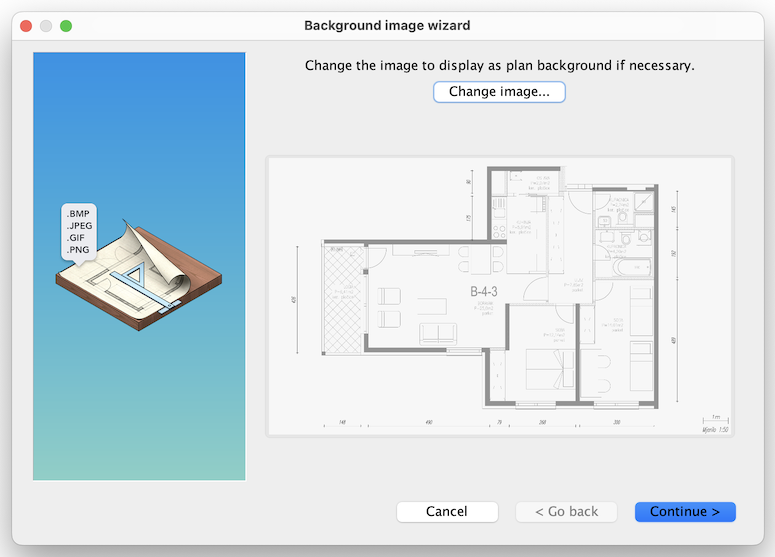 Then you create rooms and walls by drawing over the background image of a floor plan.
2. Place furniture and objects
Once you have a floor plan, it is time to add large objects like furniture. While adding furniture, SH3D will force you to think about furniture dimensions, which is good. You can position and rotate furniture to your liking until you find an organization that best works for you.
SH3D has limited furniture options, but you can import more; see the 3D Warehouse or SketchUp sections below.
3. Add colors and textures
When furniture is in place, it is time to add some flair. Add colors or textures to walls, floors, tiles, or furniture. Note that you can import any texture from an image file. For example, I downloaded wallpaper textures and canvas photos from shopping websites to add exact wallpaper textures and exact images to canvas pieces hanging on the walls.
4. Create viewpoints for rendering
Once everything is set up, it is time to switch from the default view, which is not of great quality, to renders. I bet you will render the same views more than a dozen times (as your design progresses), so it is convenient to create viewpoints. Viewpoints are specific points in the floor plan where you want cameras to render from. Viewpoints can be defined from room corners, entrances, sitting areas, or any area that best showcases your creation.
You can navigate to a viewpoint by its name and then request render from that viewpoint. However, note that rendering takes time; the better the quality, the longer rendering will take.
5. Render viewpoints in a batch
The good thing with defined viewpoints is that you can render all defined viewpoints in a batch. Instead of selecting viewpoint by viewpoint and waiting for each render to finish, just run a batch renderer! Set quality to maximum, go for lunch, and by the time you finish your avocado toast, all viewpoints will be rendered.
Free furniture library: 3D Warehouse
Although SH3D extra libraries have thousands of 3D models, they lack specific furniture.
However, 3D Warehouse from SketchUp has tens of thousands more. After registration, models can be downloaded as COLLADA files (.dae file extension) that can be opened in SH3D or SketchUp. If you plan to furnish your interior with IKEA furniture, you are lucky, as more than 1000 IKEA models are available for free.
Free 3D modeling software: SketchUp Make 2017
What if a desired furniture piece is unavailable in SH3D, 3D Warehouse or anywhere online? No problem; you can create a new piece in SketchUp or start from a 3D model of a similar piece and modify it.
Unfortunately, SketchUp moved to paid plans in 2017. Fortunately, you can still download the last free version of SketchUp Make 2017 from 3rd party sites (Windows download, Mac download). That 2017 version will try to scare you by saying you will be "vulnerable to security issues." Honestly, I think that is a silly sales tactic (aka FUD tactic), as no known malware can infect COLLADA files. Just click on the very hidden "I agree" button in the bottom right corner: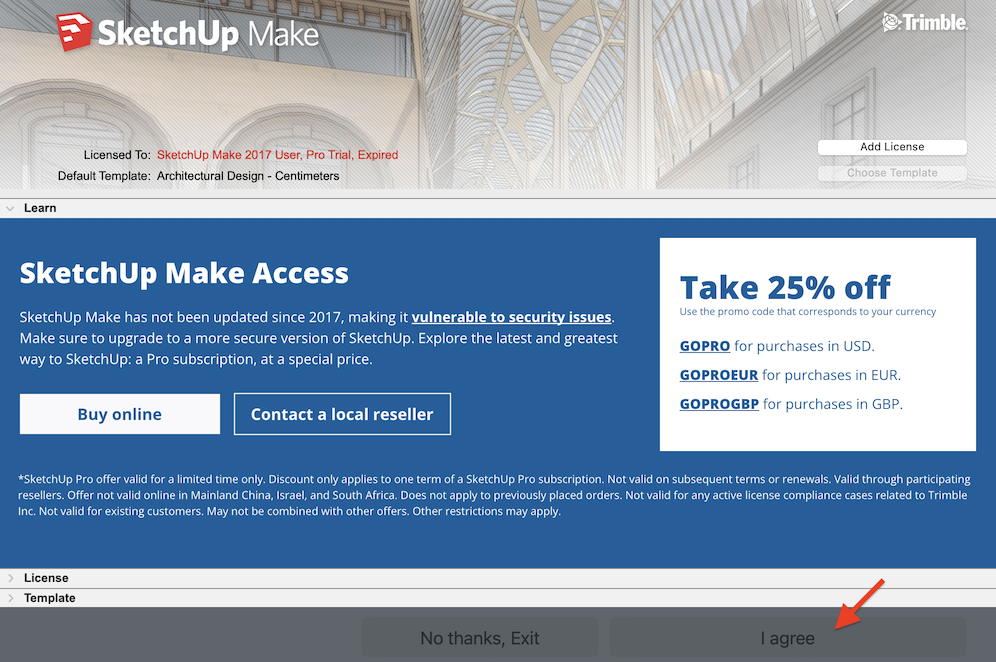 In SketchUp Make 2017, you can start from scratch or import an existing COLLADA file using File > Import… option: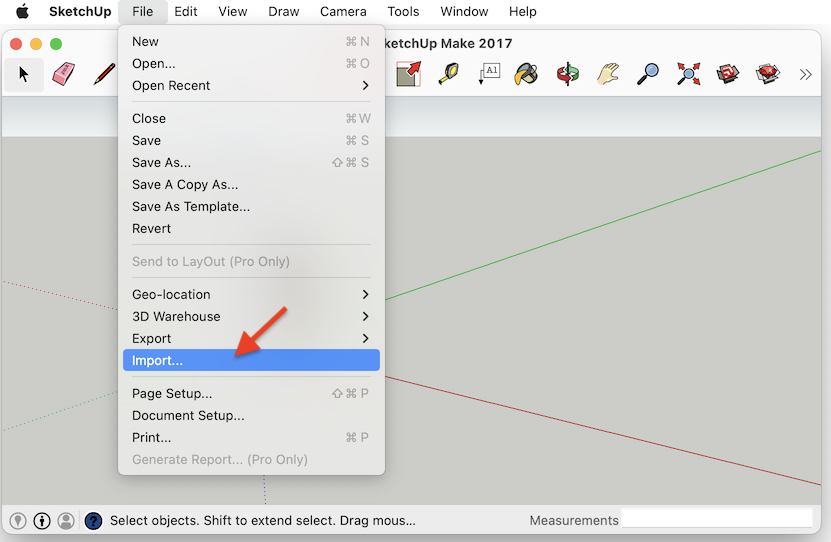 You can learn SketchUp by watching one of many YouTube tutorials. There are even tutorials on how to build an entire house in SketchUp.
I found it faster and easier to do interior design in SH3D, so I used it only to modify existing furniture. But if you invest in learning SketchUp, you will be able to design anything, from products to models for 3D printing, not only interiors.
Conclusion
I showed how you can do basic interior design with free software. It is not professional work, but it will enable you to notice most of the problems with your ideas before you start buying furniture. You will see if the furniture is too big or too small for a room, if all doors can open or they bump into something, if there are too many or too few colors in the space. You will be able to show renders to your friends and family and get immediate feedback.
Furthermore, the above process is fast and easy even for people without 3D modeling or rendering experience.
You can download my final SH3D file with all furniture and textures inside so that you can play with it:
Both that file and this tutorial are licensed under a Creative Commons BY-NC-ND License. If you find this resource helpful, please share.