I thought I was an experienced traveler. But my first night in India proved me completely wrong.
Prelude
It was 2007 and I took a very nonchalant approach to getting to India. I booked an airplane ticket but decided not to reserve any accommodation. I wanted a real backpacking experience, directly going to cheap hostels in search for a room that wasn't too dirty. I was so relaxed that I started reading a guidebook (Lonely Planet India, 1232 pages and thicker than the Holy Bible) a mere three hours before the one o'clock night landing in New Delhi. I quickly found the section about Delhi and learned that:
The arriving terminal has decent currency exchange.
The best way to avoid overpaying a taxi is to use the Traffic Police Prepaid Taxi Booth.
Most backpacker joints are located in the Paharganj area, and a taxi ride there was 210 Indian rupees.
I felt jolly good. The plane landed, I exchanged money and purchased a prepaid taxi slip. Although it was two o'clock in the morning, when I walked out of terminal with a slip in my hand, dozens of taxi drivers noticed me and started shouting:
"Taxi! Come here my friend! Best taxi!"
Best taxi?! They all looked the same; black english cabs like in the middle of Piccadilly Square. I showed the slip to the closest guy, he said "No problem, my friend!" and we jumped into his cab.
It turns out it wasn't his cab — at the driver's seat was a scary looking dark guy with a big turban. The driver didn't speak a word of English, but my new "friend" with a big smiling face was there to act as translator. Nice.
My Translator Friend started to chit-chat, "Where are you from.. Croatia? Do you play cricket there?" I interrupted him when I noticed that some cars on our highway are going in the opposite direction. "Crazy people!" he said, "Some people don't know how to drive here!" After five minutes we came to a road block – a big truck had overturned and was blocking all the lanes. Our quiet driver started mumbling, looked at the situation for a minute and then, without saying anything, just turned the car around! "Holy crap," I screamed in my head, "we are driving on a 4-lane highway in the wrong direction!" Translator Friend awkwardly smiled and said, "Roadblock.. Heh.. Long Wait." It seems that in India you can violate any traffic rule, as long as you use your car horn to warn other drivers of your violation.
I started to feel scared and I gripped the car seat.
The Scam
"Are you first time in India?" asked my Translator Friend.
"Yes, first time in India," I replied.
I was so stupid! You never say to ANY taxi driver you are a first-timer, especially when you are on night shift with Translator Friend and Mister Turban.
"What is the name of your hotel?" he asked.
At that moment I could have saved the situation, but I messed up even more.
"I don't know. I will check a few guest houses in.." I looked at my taxi slip, "..Paharganj area."
His eyes sparkled.
"Can I see that again?" he took my slip and showed it to the driver and they exchanged a few sentences in what sounded like Punjabi. Then he turned back to me.
"Paharganj? Where is that? We don't know that street."
Here we go. I paused for a moment and realized I have a map of that area in the guidebook.
"No," he was looking at my Lonely Planet, "I don't recognize that part. Delhi is very large. Veeery large!"
After a short pause he continued.
"You know my friend, I know one very nice hotel. Great for you."
Then I realized the scam. They would take me to a very expensive hotel, where they get the commission for bringing naive tourists.
"No, I don't want to go to YOUR hotel, please take me to Paharganj!" I raised my voice.
It didn't help. He looked at the map, talked to the driver, discussed it for five minutes with me but he insisted they don't know how to get there.
"You know what," he finally said, "we can go to nearby tourist agency and ask there, they will surely know."
I agreed. We soon arrived in front of a tourist agency, with big, lighted street windows, full of people inside. It was now 2:30am — a strange hour for a tourist agency to operate. I grabbed my backpack and guidebook and went in. They showed us to an office with a free agent. The agent was sitting behind his desk, popped up a big smile and showed a chair in front of him. I sat down and explained the situation.
"I don't know how to get there," the agent said, "but I can call that guest house you wanted to visit and we will ask them."
I agreed. He called the first place I had circled in the plane, from a phone inconveniently located behind his back.
"Can I have directions to your hotel? What, you are fully booked? Aha.."
Somehow I wasn't surprised. I insisted that he phone the next guest house and that I do the talking. He gave me the handset but I was not sure the agent dialed the right number.
"I am sorry," said a man on the other end of the line, "we are all fully booked. All guest houses here are fully booked. There is a big festival in New Delhi right now."
I hung up the phone and started looking at other accommodation in the guidebook.
"Don't worry," the agent said, "I know one hotel that is still available even now when there is a festival."
Suddenly, I felt a strong sense of deja vu; as if I had experienced this situation before. But when and where? How could I have a memory of this, when this is my first time in India? Then I remembered.
I flipped my Lonely Planet to the page I was reading on the plane, where there is the section about scams in New Delhi. While my Translator Friend and the agent thought I am searching for another guesthouse to call, I started reading. The guidebook described my very situation. Here is the photo: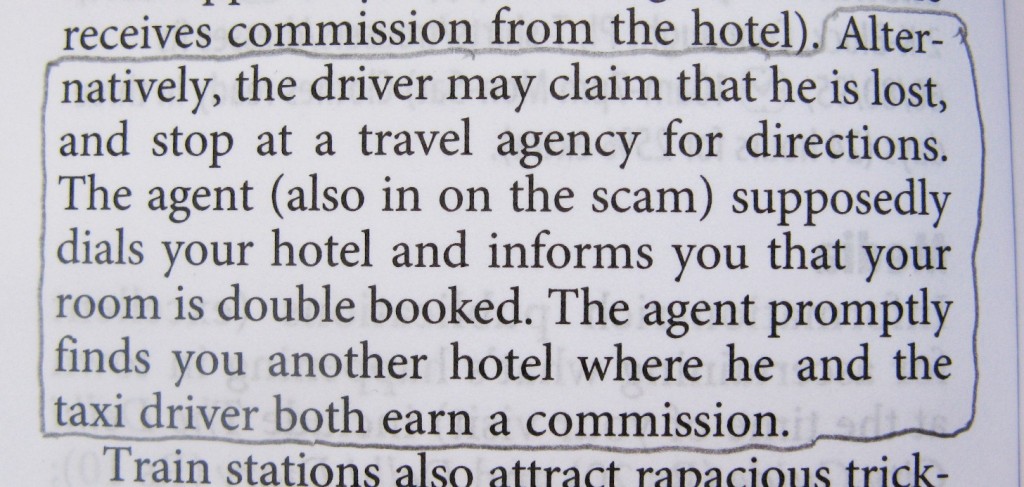 I couldn't believe I was swindled by the oldest trick in the book within less than one hour in India! And I still had six weeks to go.
"Guys," I said after calming down, "I will read you one section from my guidebook."
By the time I was finished, they've stopped smiling. But that didn't solve it. I threatened to call the tourist police, but they insisted they didn't know where that part of town was! Then I noticed on the map that Paharganj area is close to New Delhi Railway Station. Carelessly perhaps, I demanded that they drive me there. Sudden flash of enlightenment crossed the face of my Translator Friend as he remembered where the city's central train station might be.
Aftermath
The cab was quiet on our way to the train station. Halfway there, the taxi stopped.
"Don't worry, driver will take you to the station." Translator Friend reassured me, and left the car. It seemed that the night was still young and he needed to help other poor taxi drivers, who don't speak English, to scam another round of tourists.
When the driver stopped at the station, I gave him my prepaid taxi slip. To stop cheating, local government implemented a system where taxis only get money when they come back with the slip. Mister Turban then opened his right palm and said his first words in English:
"Tip! Taxi tip!"
I couldn't believe my ears! After playing games with me and after delivering me to the wrong location, this guy was demanding a tip!? I swore something in Croatian and slammed the car door.
With the backpack on my back and a small map in my hand I walked ten minutes to the guesthouse. Of course, there were rooms available. I was so tired I didn't mind getting the smelly one.