The travel and tourism sectors are suffering because of the COVID-19 pandemic, and governments are scrambling to offer subsidies to affected businesses. But, there is little talk on how companies are transferring their costs to citizens, with government approval.
In this case, the company is Lufthansa, who canceled my May flight from Croatia to Germany three weeks before the flight date. I booked the flight before the pandemic started, so I was a bit relieved. My reason for being in Berlin was valid for entry, but I was to either self-isolate for two weeks or get tested for COVID-19, both a hassle. If Lufthansa decided to cancel the flight and return the money, no problem.
But that is not what Lufthansa decided. Their cancellation email didn't mention refunds, but offered flight vouchers instead. As the email was a no-reply email, calling customer support was the only option. Lufthansa's support representative agreed to issue a full refund. But they said that processing the refund can take up to six weeks, as they are overwhelmed with requests. EU consumer protection law requires refunds for an undelivered product or service to be issued within 30 days, but these are exceptional times, so I agreed. What Lufthansa didn't agree to was stating that in writing, in a letter or email.
Six weeks came and passed without a refund. On a second call, Lufthansa's support representative repeated the story. They are overwhelmed with requests, my refund will be processed in 2-3 weeks, no need to worry, but they will not provide that statement in writing. 
While waiting for their promise, I stumbled across an article explaining my issue as part of a bigger, EU-wide story. Lufthansa was on the verge of bankruptcy and agreed to a €9 billion bailout from the German government. In an effort to save the company, the German government told Lufthansa that they don't need to obey EU consumer protection law, and that they don't need to issue refunds. Lufthansa can issue vouchers for future travels instead. This situation is controversial because:
The German government is telling a German company they don't need to follow EU law.

The German government is playing favorites with one company. Other companies don't have such luxury during the crisis, both in getting the loan or escaping the laws.

German tax-payers are giving a large, risky loan to one air carrier.

With the voucher system, other EU citizens are effectively giving indefinite, interest-free loans to Lufthansa.
Notice that the procedure of getting a voucher from Lufthansa is much easier than getting a refund. For a voucher, click on the link in the email and fill a form. For a refund, wait on the customer support line. But I am a stubborn person, and I hate vouchers. A few times in my life, given vouchers got unused or companies put restrictions on voucher use. In this case, there is a possibility Lufthansa will go bankrupt, and then their vouchers will be as useful as toilet paper. Wait, that may come in handy in COVID-19 times!
I was not surprised when three weeks passed and there was no refund. I felt screwed by Lufthansa, the EU, and German politicians. However, there was still one overseas ace up my sleeve I could use. 
I paid for my flight via PayPal, which offers consumer protection on purchases, and I decided to activate it. I didn't have much hope, as worldwide pandemic cancellations were not typical PayPal disputes. Additionally, I didn't have much proof except for the cancellation email. Lufthansa didn't provide a written reply, the flight was erased from the Lufthansa website, and I didn't record phone conversations. 
But, as soon I made my claim, I realized there is a hidden benefit. When a PayPal claim is created, there is a deadline and a written trail. In this case, Lufthansa was given until July 13th to respond:

It seems that someone from Lufthansa replied before that, as I got my money on July 7th: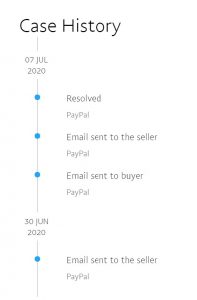 I am impressed by PayPal's straightforward claims procedure. There was no paper forms or PDFs that I needed to sign. As an example, my friend Chris also got a Lufthansa April transatlantic flight canceled (a month before my trip). He asked Lufthansa for a refund, and to this day he still hasn't received any of 700 EUR.
You have all the facts above, so make your conclusions. These are my modest takeaways:
During a crisis, EU laws get overridden by national interests.

During a crisis, businesses labeled a "national interest" by politicians get favorable treatment.

PayPal consumer protection works, even in times of crisis.

Creating a PayPal or credit company claim is easier than waiting on customer support lines, enforces deadlines, and has traceable communication.
To come to the beginning of this article, there are analyses of money lost by different business sectors due to COVID-19. It would be interesting to see an analysis of how much consumer money is currently locked in unused vouchers, and what percentage of them will actually get used in the future. For comparison, in normal times, just US consumers lose up to $3 billion annually in unspent gift cards. It seems that 2020 is going to be an outlier.
UPDATE: check the discussions on Hacker News and Reddit.